| | |
| --- | --- |
| Naam /name | : MT940 reader |
| Versie / versie | : 2.3 |
| Gemaakt in / made with | : VB.net (VB Express 2010) |
| Taal/language | : multi-language |
| Laatste versie datum / last version date | : 22 januari 2015 |
| Donatie: | |

Download
Algemeen/General
Banken maken tegenwoordig gebruik van de mogelijkheid om afschriftinformatie op te staan in MT940 formaat. Dit is niet handig zo te lezen. Met dit programma kun je MT940 bestanden openen en bekijken, opslaan als html, opslaan als csv of gewoon printen. Ook kunt u filteren op een bepaalde bankrekeningnummers.

Het programma bevat een scrollmodus waardoor handig meerdere afschriften bekeken kunnen worden. Het programma is handig als u of uw klant geen papieren afschriften meer heeft.

Dit programma is meertalig
----
Banks nowadays often use the MT940 format to export bank statement information. MT940 aren't easy to read. With this program you can open and watch MT940 files, save them as html, save them as csv or just print them. You can also filter on the bankaccountnumber.

The program contains a scrollmodus. The scrollmodus is handy to watch mutiple digital bankstatements. The program is at handy if you or your customer doesn't have any paper bankstatements anymore.
This program is multi-language.
Alleen voor versies 1.x / only for versions 1.x:
Bij problemen bij opstarten programma gebruik deze installatie link / Problems running program? use this installer: installer MT 940 reader
Screenshots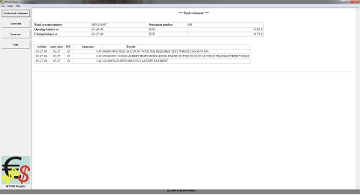 Downloads
Versie/version

Datum/date

Download

Opmerking/remarks

VB.NET:
MT940 Reader 2.3
22-01-2015
Download

- Better MT940s support / start camt053 reading

MT940 Reader 2.2
22-02-2014
Download

- Functie toegevoegd om te filteren op een bankrekeningnummer / Added function to filter on bankstatementnumber

- Controle op updates / check for updates

- Snelheid wederom flink verbeterd / Speeding up bankstatement creation

MT940 Reader 2.1
25-01-2014
Download


- probleem met incomplete Rabobank omschrijvingen opgelost / Solved problem with incomplete Rabobank details.

- Flinke snelheidverbetering maken html bankafschrift / Speeding up bankstatement creation

MT940 Reader 2.0
24-12-2013
Download
- Geconverteerd naar VB.NET, VB.NET proof gemaakt. / converted to VB.NET
- Daarnaast is er een stylesheet optie toegevoegd voor het opmaken van bankafschriften / added stylesheet option
- Duitse taalbestand bijgevoegd / added German language file

Native VB6:

MT940 Reader 1.3

14-10-2013

Download

Probleem met saldo bankafschriften opgelost, onterechte afronding laatste getal

MT940 Reader 1.2

08-10-2012

Download

Aantal regels wat ingelezen kan worden is vergroot (factor 30).

MT940 Reader 1.1

26-06-2011

Download

scheidingsteken aangepast bij export naar CSV.

MT940 Reader 1.0 installer

23-08-2010

Download

Gebruik deze installer als VB6 runtimes niet reeds geinstalleers zijn / use this installer if vb6 runtimes aren't installed yet.

MT940 Reader 1.0

23-08-2010

Download

eerste definitieve versie / first final version